First, I would like to voice my displeasure with Google --they design so many elaborate pictures for their home page for each and every holiday, artist's birthday or minor happening around the world...and what does the homepage look like on this day of remembrance?
Nothing at all intertwined with their name...just a small yellow ribbon with no scroll over. Pathetic.
(**
Originally posted 5/29/06
**)
***
Listen while you read...
(right click and 'Open Link in new tab')***
"The "Memorial" in Memorial Day has been ignored by too many of us who are beneficiaries of those who have given the ultimate sacrifice. Often we do not observe the day as it should be, a day where we actively remember our ancestors, our family members, our loved ones, our neighbors, and our friends who have given the ultimate sacrifice:


* by visiting cemeteries and placing flags or flowers on the graves of our fallen heroes.

* by visiting memorials.

* by flying the U.S. Flag at half-staff until noon.

* by flying the 'POW/MIA Flag' as well (Section 1082 of the 1998 Defense Authorization Act).

* by participating in a "National Moment of Remembrance": at 3 p.m. to pause and think upon the true meaning of the day, and for Taps to be played.

* by renewing a pledge to aid the widows, widowers, and orphans of our falled dead, and to aid the disabled veterans.
(
source
)
Memorial Day Quiz
You answered 7 items out of 9 correctly.
Your score is 78%. Good job!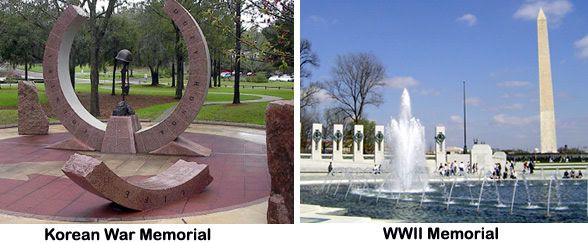 Paying homage to all who made the ultimate sacrifice for this country (always, but especially today):
1917-1918 World War I 116,708
1941-1945 World War II 408,306
1945 Okinawa US Navy 5,000, USMC/Army 8,000
06 Jun 1944 D-Day 1,465
1945 Iwo Jima 6,503
1950-1953 Korean War 54,246
1957-1975 Vietnam War 58,219
1983 Beirut Lebanon 241
1990-1991 Persian Gulf, Op Desert Shield/Storm 363
2001-Present Operation Enduring Freedom, Afghanistan 687
2003-Present Operation Iraqi Freedom, Iraq 4,299
(
source
)