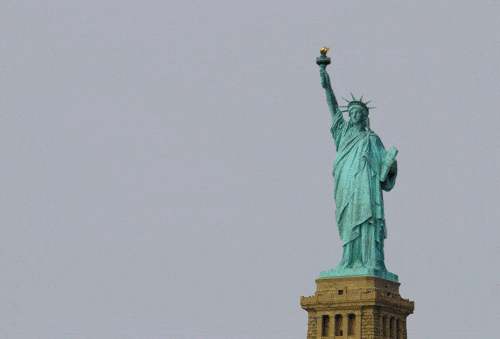 It seems that it's perfectly feasible that "torture" photos that could incite our enemies and further endanger our troops could be released by the White House, but forget about seeing any of the "photo-op" pics that were snapped from the F16 that tailed Air Force one in its Statue of Liberty drive by. Those are off limits:
"White House Press Secretary Robert Gibbs told reporters on Tuesday that the internal review — ordered up after President Obama expressed anger at the controversial photo shoot – would likely be completed this week. The White House Office of Military Affairs is on the hook for approving the flyover of New York City.
At the daily press briefing, a reporter asked Mr. Gibbs why the White House had not authorized release of the photographs.
"I've watched CNN. I didn't notice a lack of archival material from that flight," Mr. Gibbs said.
"No, from inside the plane," a reporter replied. "The photos they took, we haven't seen those."
"
I don't know where those are
," Mr. Gibbs said." (
source
)
I am pretty sure I heard that FNC has filed a request for the pics under the Freedom of Information Act.
In light of the picture withholding,
the Freepers had a Photoshop contest
where they had to put Air Force one in every place imaginable... Some of the submissions are classic (I think they are up to 600 pages!) Above is my favorite entry (though it was really hard to pick a favorite) and below would have been my submission --I was finally going to stop lurking and join because no one had done 300, but they haven't approved my membership...