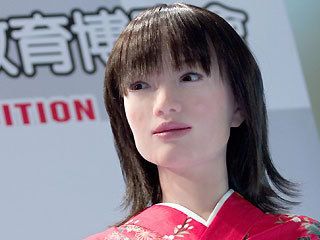 Well, here goes that slippery slope:
Sex with robots. Marriage to robots. Coming soon to Massachusetts?
"...Levy predicts Massachusetts will be the first jurisdiction to legalize human-robot marriage.
"Massachusetts is more liberal than most other jurisdictions in the United States and has been at the forefront of same-sex marriage," Levy said. "There's also a lot of high-tech research there at places like MIT."
Although roboticist Ronald Arkin at the Georgia Institute of Technology in Atlanta does not think human-robot marriages will be legal anywhere by 2050, "anything's possible. And just because it's not legal doesn't mean people won't try it," he told LiveScience.
"Humans are very unusual creatures," Arkin said. "If you ask me if every human will want to marry a robot, my answer is probably not. But will there be a subset of people? There are people ready right now to marry sex toys."
The main benefit of human-robot marriage could be to make people who otherwise could not get married happier, "people who find it hard to form relationships, because they are extremely shy, or have psychological problems, or are just plain ugly or have unpleasant personalities," Levy said. "Of course, such people who completely give up the idea of forming relationships with other people are going to be few and far between, but they will be out there..." (
You MUST read this article
)