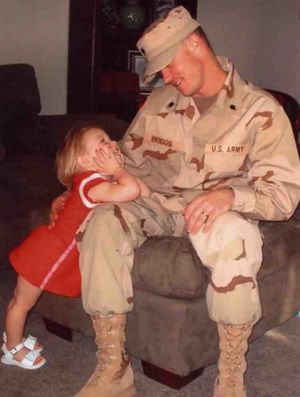 Do you all remember little Kelsey Briggs?
Despite three years worth of depressing news stories, Kelsey has loomed in my mind since the first time I saw that picture of her gazing adoringly at her father.
Thanks to Lilo over at
Lost in Lima
(who has been all over this story from the beginning) we now know that Kelsey's "mother" (ugh, I hate to even call her that), Raye Dawn Smith, has been found GUILTY of enabling child abuse and a recommendation of 27 YEARS. As Lilo points out, this won't bring back little Kelsey (it certainly makes me feel better though).
"[Mike] Porter, [Smith's second husband], initially was charged with sexual assault and first-degree murder, but pleaded guilty to enabling child abuse and was sentenced to 30 years in prison. Porter testified last week that he believed Smith was responsible for the girl's death.
Kelsey died on Oct. 11, 2005, at her mother and stepfather's home near Meeker. Evidence indicated she suffered repeated injuries in the final months of her life, including a broken collarbone, broken legs and bruises on her face and body." (
source
)
RIP Sweetie, at least some measure of justice has been handed down.