It looks like Michael Bloomberg is preparing to enter the already overly crowded 2008 presidential race.
First this:
"Mayor Bloomberg is decrying the state of the 2008 presidential race, faulting the major party candidates for offering shallow, simplistic prescriptions, and scolding the press for failing to demand more from those seeking the White House.
During an appearance at Google's headquarters in Silicon Valley yesterday, Mr. Bloomberg said the televised debates among the presidential candidates have been, in essence, a waste of time.
"They have absolutely nothing to do with the job and the qualifications. And they don't tell you anything about whether or not any of those candidates would be good or bad presidents. What they really say is, did they memorize their notes of 'What to say if …' and whether their staff was able to anticipate," the mayor said. "If you look at both debates, they pandered, what I would argue, the same ways." (
source
)
Then we find that he has officially changed his voter registration from Republican to "unaffiliated with any political party". Of course he is denying any plans to announce. (
source
)
He would be silly to run. We already have Giuliani in the race -what would Bloomberg offer that was any different? And he seems to be forgetting something major --something that is growing each and every day...the Fredheads.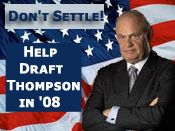 The latest Rasmussen poll has FRED THOMPSON IN THE LEAD.
"There's change at the top in the race for the Republican Presidential nomination.
The latest Rasmussen Reports national telephone survey finds former Tennessee Senator Fred Thompson earning support from 28% of Likely Republican Primary Voters
. Former New York City Mayor Rudy Giuliani attracts support from 27%. While Thompson's one-point edge is statistically insignificant, it is the first time all year that anybody but Giuliani has been on top in Rasmussen Reports polling. A week ago, Thompson and Giuliani were tied at 24%." (
source
)
(Yes, I have to say it) ...And he hasn't even
officially
announced!