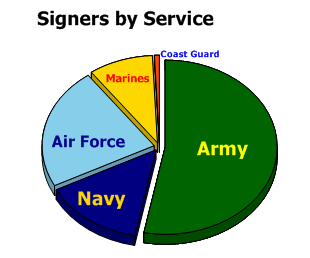 What a terribly sad commentary of this state of this country when military members feel the need to petition the United States Congress for support and funding in a mission they voted on...
"...Senators Lindsey Graham and Saxby Chambliss, and Congressmen John Boehner, Roy Blunt, and Eric Cantor will accept a petition from U.S. servicemen — the majority of whom are serving or have served in Iraq — urging Congress to both support their mission in Iraq and end the calls for retreat.
.
The petition, Appeal for Courage, currently has nearly 2,800 signatures (they began gathering signatures in mid-February 2007). Its opposition, Appeal for Redress, currently has over 1,900 signatures (they began gathering signatures in October 2006).
.
Appeal for Courage's petition will be presented to Congress tomorrow at 2:30 p.m. by Veterans of Foreign Wars (VFW) executive director Bob Wallace at VFW headquarters in D.C. — 200 Maryland Avenue, NE, next to the Hart Senate Office Building.
.
Wallace will present the petition on behalf of Appeal for Courage's organizers, who incidentally are serving in Iraq." (
source
)
The petition states:

"As an American currently serving my nation in uniform, I respectfully urge my political leaders in Congress to fully support our mission in Iraq and halt any calls for retreat. I also respectfully urge my political leaders to actively oppose media efforts which embolden my enemy while demoralizing American support at home. The War in Iraq is a necessary and just effort to bring freedom to the Middle East and protect America from further attack.
"
Read the petition/Sign the "Appeal for Courage
if you are active duty, reservist or national guard.