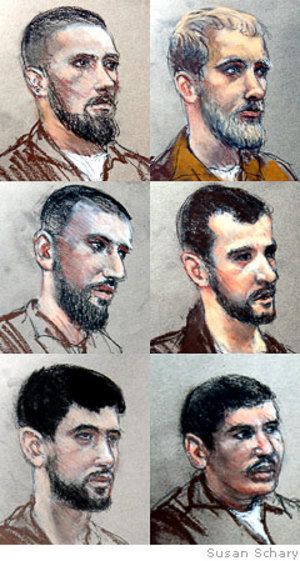 The capture of the Ft. Dix jihadists is truely amazing and reads like a Season One of
Sleeper Cell
...but,
The NYT has an article that seems to sympathize with the would-be Ft. Dix bombers...implying (ever so subtly) that it may have been the FBI informer that pushed them into setting their sites one bigger targets:
"...Since 9/11, law enforcement officials have praised the work of such informers, saying they have been doing exactly what they should be doing — gaining access to the world of a possible threat, playing along to see just how far suspects were willing to go, and allowing the authorities to act before the potential terrorists did.
In the case of the men arrested this week, the authorities have been emphatic: The men were prepared to kill, and to die in the effort, and the informer was vital to preventing any loss of life.
"Their intentions and motivation were obviously well established before the investigation began," said Michael Drewniak, a spokesman for the United States attorney in New Jersey, Christopher J. Christie, who announced the arrests of the men on Tuesday.
The authorities made the arrests and ended the operation, officials said, because the men were at last ready to acquire the weapons they had sought.
As the case goes forward, the role of the main informer will almost surely be contested. Over the years, informers in terror cases have become the focus of efforts by defense lawyers and others to call into question the legitimacy of the investigations. They have often sought to show that informers engaged in entrapment.
"The police are allowed to use some enticement in cases," said Troy Archie, a lawyer for one of the six men charged, Dritan Duka. "But it depends how far they go."
Certainly, the work of informers can sometimes seem murky..." (
source
)
And it's not just the dying Gray Lady...
all the other MSM sites have jumped on this aspect of the story
. Forget they were hyped up to kill as many soldiers as they could on American soil, forget some were illegal aliens...Much like those opposed to wire-tapping suspected terrorists and letting men that were shooting at American troops stand in cold rooms to get information --I just don't get where the "civil rights" activists are coming from. Isn't the right to life and not being blown up when you head off to work a civil right?