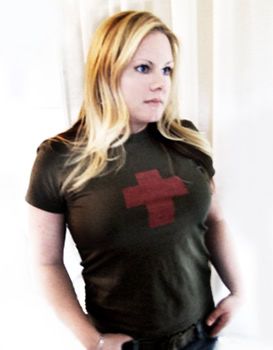 Blonde Sagacity tees may be coming soon. I have been getting some (much needed) help from the awesome Mark of
American Method
.
It's SO hard to find a good t-shirt (well, unless you want to pay $90+). One that is actually cut for a woman and not just a man's tee in smaller sizes. One that can handle a top-heavy girl and not be huge around the waist. I have three American Method tees and I love them --which is why I knew he'd be the perfect person to ask about creating one for me.
Simplicity, softness and flattering cut is key. If I do have them done I don't want to use one of those services that does a digital transfer on a low quality shirt. I want people to look their best in it.
Anyway, since I asked all of you for opinions/advice as to what a Blonde Sagacity shirt should be, I thought I'd keep you updated on the ongoing pursuit for that perfect tee...and to give
American Method
a plug because that's something I like to do when I find a good product.