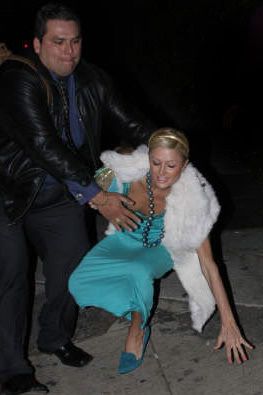 Yeah, that was a bit facetious...but I also have some sympathy. I can't imagine what her 45 days in county jail will be like --considering she is Paris Hilton. Will the "normal" inmates buddy up to her hoping to get a little cash --or will they target her to show they don't care who she is...
"...A judge sentenced Paris Hilton to 45 days in county jail Friday for violating her probation, putting the brakes on the hotel heiress' famous high life.
Hilton, who parlayed her name and relentless partying into worldwide notoriety, must go to jail by June 5 and she will not be allowed any work release, furloughs, use of an alternative jail or electronic monitoring in lieu of jail, Superior Court Judge Michael T. Sauer ruled after a hearing.
The judge, saying "there's no doubt she knew her license had been suspended," ruled that she was in violation of the terms of her probation in an alcohol-related reckless driving case.
"I'm very sorry and from now on I'm going to pay complete attention to everything. I'm sorry and I did not do it on purpose at all," she told the judge before he announced the sentence.
She was then ordered to report to a women's jail in suburban Lynwood by the set date or face 90 days behind bars. The judge's ruling excluded her from paying to serve time in a jail of her choice, as some are allowed..." (
source
)
Her mom really annoyed me...acting like Paris was just getting punished for being Paris. Not true. She was arrested in Sept. for reckless driving and failed a sobriety test. She was stopped twice after that and never enrolled in the court mandated alcohol classes. She was pulled over again (still driving on her suspended license) and signed a waiver that she understood her license was suspended. Then in February was pulled over again for speeding (suspended license). I think the average person caught drunk driving; ignoring court orders and getting caught that many times with a suspended license would have gotten the same or a stiffer penalty.
"When a reporter asked what she thought of the judge's decision, a visibly angry Kathy Hilton responded: "What do you think? This is pathetic and disgusting, a waste of taxpayer money with all this nonsense. This is a joke."
I guess Kathy has never watched "The Simple Life" --unfortunately Kathy, thanks to your overindulgence...It's your daughter that's the joke.