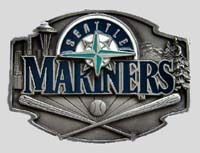 From the NY Post:
"...Seattle Mariner pitcher Julio Mateo viciously pummeled his wife and bit her lip after she told the hurler she was leaving him and taking the kids back to the Dominican Republic, a prosecutor claimed yesterday.
Aurea Mateo "may be permanently scarred" by the assault in the Hilton New York Hotel early Saturday, which occurred just hours before the Mariners played the Yankees, said
Assistant DA Samuel David
." (
source
)
My friend! Give 'em hell Sam!