"The purpose of all war is peace." -Saint Augustine
Capt. Jason M. West
Army Capt. Jason M. West, a Crafton native killed by gunfire in Iraq on July 24, grew up playing soldier in his living room and back yard.
After serving as an enlisted man, he wanted to become an officer. After one tour of duty in Iraq, he wanted a second.
He died in a battle in the city of Ar Ramadi serving a cause he believed in, in a calling he enjoyed, as a tank commander with the 1st Brigade of the 1st Infantry Division. (Jason was 28 years old, married and a college graduate. His funeral was desecrated by the The WBC Phelps Clan)
Marine Lance Cpl. Adam C. Conboy
Adam called his mother just five days before he was killed in Iraq asking her to send clean bedding for all his guys. "Operation bedding" to help diffuse the smell of 20 men in an old, hot schoolhouse.
"Operation Bedding has since grown from a son's spontaneous quip to a mother's tribute to her fallen Marine. Mary Conboy runs a homespun charity effort from her backyard, sending troops in Iraq packages that contain everything from bedding to sweat socks to canned tuna.
Adam Conboy's platoon got its packages by July, and the company that replaced it received the next shipment. Schools began sending donations, and Mary Conboy started getting requests from different military units interested in the care packages." (
source
)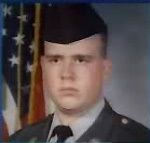 Pennsylvania Army National Guard Spc. Mark W. Melcher
"My son believed in the cause. He loved his country. He gave his life for his country. You don't get any better than that," said his father, John L. Melcher Sr., of Ross.
"We are extremely proud of him. He was doing what he believed in, and he wanted to be there," his father said.
Melcher was assigned to Company C of the National Guard's 1st Battalion, 103rd Armor, based in Friedens, Somerset County." (
source
) (He also served in Kuwait during Operation Desert Storm).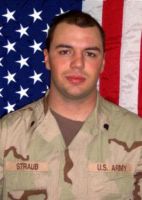 National Guard Army Sgt. Francis J. Straub Jr.
Francis Straub Jr., 24, of Philadelphia, died Aug. 9 during an ambush in Beiji. He was based in Philadelphia.
"On his last trip home, Francis J. Straub Jr. showed his family pictures of him with Iraqi kids playing baseball and having fun.
While there he had also helped steer them donations of candy and flip-flops. "Frankie had the biggest heart in the world," said his father, Francis J. Straub Sr. "I love all my sons, but there's a special place in my heart for Frankie." He was "a completely selfless individual, always looking out for anyone," said a cousin, Melissa Leyland, and "always interested in what was going on in my life."
Army Sgt John T. Bubeck
John T. Bubeck called his mother on Christmas day. He ended the call with: "I'll go hassle the neighbors now, and preserve freedom, and save the world."
Shortly after that phone call, Bubeck and two other soldiers were fatally wounded after an improvised explosive device detonated near their vehicle in Baghdad, according to the Department of Defense. Bubeck died the next day.
Bubeck was assigned to the Ninth Engineer Battalion, Second Brigade Combat Team, of the Army's First Infantry Division out of Schweinfurt, Germany. He had been in Iraq less than three months.
"I was very proud of him, more proud than scared," his mother said. "I knew he'd done basic training and he was prepared.
"He was looking forward to it. He kept saying, 'I'm tired of sitting on the bench in the game. I want to get in.' "
His mother recalled a recent conversation in which he talked excitedly about a ride he had taken in a Black Hawk helicopter.
"He was my risk-taker. He liked the adventure, and he liked to be where the action was," she said.
"I could just picture him in his Superman cape," she continued." (
source
)
"I have never been able to think of the day as one of mourning; I have never quite been able to feel that half-masted flags were appropriate on Decoration Day. I have rather felt that the flag should be at the peak, because those whose dying we commemorate rejoiced in seeing it where their valor placed it. We honor them in a joyous, thankful, triumphant commemoration of what they did." ~Benjamin Harrison
**And this tribute to the troops was done by
our very own Kat
!!!!**
"The following is an original song, written and performed by me. I don't claim to be a professional singer (or one at all) and Jimi Hendrix may be turning over in his grave from my guitar playing, but it comes straight from the heart in hopes that you will remember to "Thank a Vet". -Kat, The Middle Ground: