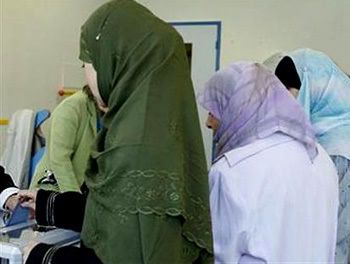 "...This 30-minute outpatient procedure, called "hymenoplasty" and costing between 1,500 and 3,000 euros ($2,000-$4,000), is increasingly popular among young women of North African descent in France.
No exact figures exist to say how many such operations are done, but the woman's surgeon says he gets three to five queries and performs one to three hymenoplasties each week. Demand has been rising for the past three or four years.
Doctor Marc Abecassis, whose office is near the chic Champs Elysees, sees the rise in religion among France's five million Muslims fuelling this trend. His patients are between 18 and 45 years old, Muslim, born both in France and in North Africa.
"Many of my patients are caught between two worlds," said Abecassis. They have had sex already but are expected to be virgins at marriage according to a custom that he called "cultural and traditional, with enormous family pressure" (
source
)
The article has some doctors that are upset their colleagues are performing this procedure --saying it's demeaning to women that their "worth" is based on their hymen. Like these women have a choice. Save $4,000 to get re-sewn or be an "honor killing" statistic...the choice seems pretty easy to me. This procedure is probably saving women from death and mutilation daily. Now
this
is a procedure that actually deals with the health of the mother. The dissenting doctor's should be protesting the culture/religion that needs this type of surgery...not the victims that must endure it.