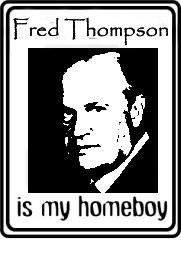 Don't forget to watch former Senator Fred Thompson on
Hannity & Colmes
tonight at 9pm EST!
Don't expect any official announcement --that won't come until his Law & Order commitment is up in June...
FNC @ 9pm EST!!!
The blogroll over at
Draft Thompson '08
is growing by the day!
Update
: I am searching YouTube for the interview from last night... If you missed it, rest assured Fred IS running.