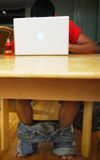 "UNION CITY, N.J. (AP) - School district officials are trying to identify who watched $250 worth of pay-per-view pornographic movies using a school cable television box, officials said.
Someone after business hours used one of the five cable boxes in the Board of Education building to order the films, priced between $4.95 and $9.95.
The cable provider, Cablevision, has refunded the school district the money, and is helping to investigate the purchases.
School officials have since gotten rid of three of the cable boxes. A board official said the building had cable in case there was an emergency." (
source
)
Here's the thing...if cable bills come monthly, that means someone watched 40+ pornos in 30 days. And considering I hear that most men only watch 5 minutes or less at a time...I'd say this person has a serious problem.