It's been tough to find time to post lately (as you can see). I am in the midst of a long-term sub assignment. It's a 5th grade class that has admitted to me they glory in sending substitutes running for the door. For some reason they are good for me. The principal and other teachers are in shock (I am too actually). They are tough, but we clicked for some reason and I can keep them under control.
Friday they were just crazy and I told them I wasn't going to come back next week because they were acting out. They wrote a note on the board apologizing, saying they "loved me" and asking me to come back and all signed it (I would post the pic I took if I could figure out how to get it off my phone) Then, I found this in my bag when I got home: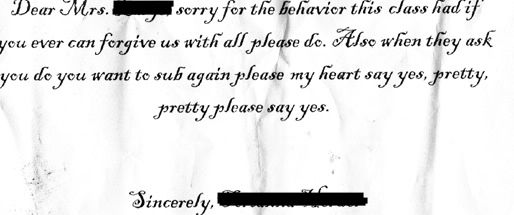 My last full time job was as an executive assistant for the VP of a big company. I got to run around in cute little outfits with my boss's credit card buying gifts for his daughter's birthday and getting taken to expensive lunches (and getting paid
a lot
more than I am now). This is a world away from that. This is SO exhausting. I don't think I sat down once last week. And forget the cute outfits unless you want marker and kid snot all over them…
Once again I have to send my wholehearted appreciation to all the teachers out there. The more I teach the more you all amaze me. And those of you that teach in the inner cities should get a medal...actually, forget the medals, you should get HUGE raises. Each of those 24+ kids are bringing their baggage with them each and every day and you are charged with
teaching
them despite the fact that their cousin was shot the day before (yes, that happened to me Thursday). You have all my respect.