This one is for Army Girl --one small victory, right?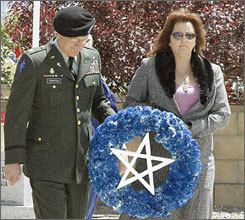 Though I am not Wiccan, nor am I an advocate or spokesperson for Wicca...I found it disturbing that casualties of the (formerly known as) GWOT could be buried in Arlington under the Crescent of Islam, but Wiccans couldn't have their Pentacle on a stone. (You can read about all the other "accepted" religions
HERE
)
So I was glad to hear that Army Girl, and other self proclaimed military Wiccans, can now have their symbol (that still looks Satanic to me) on their gravestones (hopefully many, many years from now).
"...The Wiccan pentacle has been added to the list of emblems allowed in national cemeteries and on government-issued headstones of fallen soldiers, according to a settlement announced Monday.
A settlement between the U.S. Department of Veterans Affairs and Wiccans adds the five-pointed star to the list of "emblems of belief" allowed on VA grave markers.
Eleven families nationwide are waiting for grave markers with the pentacle, said Selena Fox, a Wiccan high priestess with Circle Sanctuary in Barneveld, Wisconsin, a plaintiff in the lawsuit.
The settlement calls for the pentacle, whose five points represent earth, air, fire, water and spirit, to be placed on grave markers within 14 days for those who have pending requests with the VA.
"I am glad this has ended in success in time to get markers for Memorial Day," Fox said." (
source
)