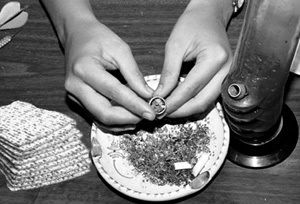 "...MARIJUANA is not kosher for Passover, a pro-cannabis advocacy group says, advising Jews who observe the week-long holiday's special dietary laws to take a break from smoking the weed.
The Green Leaf Party announced today that products of the cannabis plant have been grouped by rabbis within a family of foods such as peas, beans and lentils that is off-limits to Jews of European descent during Passover..." (
source
)
I don't know why this story stuck with me... I guess I find it a bit on the ridiculous side that rabbis had to decide whether ganja was Passover appropriate. Pot seems like such a teenage drug to me, but I guess if official pronouncements like these need to be made --there are lots of adults that would disagree with my assessment...