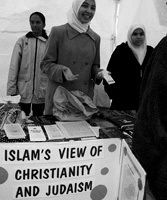 Cornell University is kicking off its third annual
Islam Awareness Week
hosted by the Muslim Educational and Cultural Association.
I have no problem with that.
But...
What I am wondering though, is there by chance a Christianity Awareness Week? A Judaism Awareness Week? A Catholicism Awareness Week? Even a day? I looked through Cornell's site and Googled the possibility to no avail...
Isn't it wild to see all these institutions of higher learning embracing religion so vigorously--even the Muslims so devout and pious they make Jerry Falwell seem backslidden? These, the same members of academia whose voices drip with hate and sarcasm when talking about the "religious right" in the "red states"...