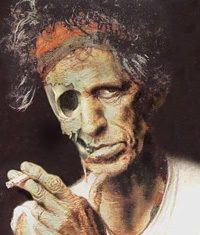 I really can't think of a more inappropriate parental bond than physically taking your parent into your body...
Keith Richards, guitarist of the Rolling Stones, said he mixed his father's ashes with his cocaine and snorted him.
""The strangest thing I've tried to snort? My father. I snorted my father," Richards was quoted as saying by British music magazine NME.
"He was cremated and I couldn't resist grinding him up with a little bit of blow. My dad wouldn't have cared," he said. "... It went down pretty well, and I'm still alive." (
source
)
The really sad thing is Richards has seen fit to procreate four or five times...
(H/T: Liz)