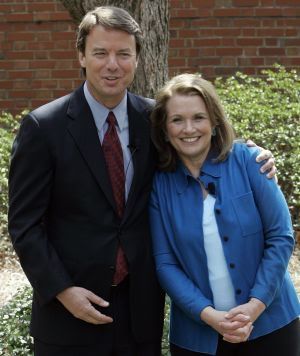 Hopefully it isn't being paved at his wife's expense.
Elizabeth Edwards will be on Oprah today (hopefully without John who has a habit of answering questions for her). I am sure Oprah's questions won't be a "tough" as Katie Couric's were (though the media went insane, I was actually impressed she wasn't afraid to ask the questions people want to know...)
After reading this in the NY Post yesterday:
"Democratic White House hopeful John Edwards' team has been collecting e-mail addresses from supporters who've sent his cancer-stricken wife, Elizabeth, notes - and using them for fund-raising requests, aides acknowledged yesterday.
The link on Edwards' campaign Web site invites people to "send a note to Elizabeth and John" and features a sad letter from the former senator penned just after the couple found out her breast cancer had spread and is now incurable.
But people who've been sending such well wishes have been hit with e-mail solicitations from Team Edwards, asking for donations just as all candidates are looking to post big online fund-raising numbers.
In the letter, Edwards says the pair is staying optimistic and fighting hard for Elizabeth. Below the letter is a space for writing the couple a message - which can't be sent without all sections completed, including one asking for the sender's e-mail address.
That, in turn, is added to the campaign's online database for boosting Internet donations..." (
source
)
I couldn't help but think of the movie "The American President" with Michael Douglass. This exchange particularly:
"President Andrew Shepherd: If Mary hadn't died, would we have won three years ago?
A.J.: Would we have won?
President Andrew Shepherd: If we had to go through a character debate three years ago, would we have won?" (
source
)
A dying spouse puts a lot of normal political scrutiny in a "poor tatse" and "that's off limits now" category -- No one will attack John and Elizabeth the way they're attacking Rudy and his wife because Rudy's wife isn't dying... I realize that's not Elizabeth's fault --but Edwards will already have an easier ride with her by his side, so I really hope that article isn't true. That he isn't actively looking to profit from his wife's misfortune.
I don't know if anyone else caught this, but Elizabeth said she had "let her family down" by not getting regular mammograms and catching the lump earlier.
"Later, John Edwards said he knew his wife didn't get mammograms because she wasn't in the habit of putting herself first.

"It's not surprising to me that she would say that, but I think she's being too hard on herself," he told the Associated Press.
(
source
)
So he acknowledged she was in the habit of putting him and her family over her own health...that it's a trait of hers...yet he allows her to do it again by staying in the race. He takes her word that she wants to stay on the grueling campaign trail despite the fact that she blames herself for her cancer. Oh, he's lovely...