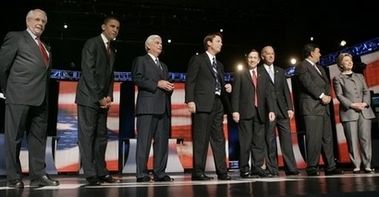 I have to admit that I didn't watch...and it sounds more like it was a "Who can bash Bush the hardest" instead of a proper debate. I did however get the highlights from the Freepers:
Sen. Dodd: Statement opposing drug testing for welfare recipients was utterly stupid. He said that drug addiction was an illness and a person should not have to give up their welfare because they are ill.
Hillary: Saying she supported military force in Afghanistan then realizing she supported the use of military force in Iraq also. It was clear she had nowhere to go with her comment.
Richardson: Said that his first day in office he would have us out of Iraq by means of diplomacy.
If this president does not get us out of Iraq, when I am president, I will," said Sen. Hillary Clinton"
"We are one signature away from ending this war," said Sen. Barack Obama
"I would withdraw all of our troops by the end of our calendar year," and invite Iran and Syria to a regional security conference, said Bill Richardson.
The best reaction after the debate was Chris Matthews, a paraphrase here:
(Hillary Clinton) didn't say anything to make herself more unlikeable.
(
source1
,
source2
)
I'll have to look for it on YouTube, but I still have to watch the last two episodes of "24" first...