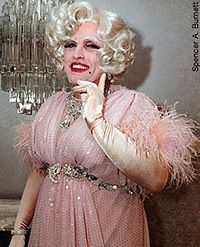 If we are to believe a new article in the NY Post, conservatives aren't all that upset with Rudy Giuliani's anti-gun, pro-abortion and pro-illegal immigrations positions...they're upset he dressed up like Marilyn Monroe.
"...A whisper campaign targeting the front-running GOP White House contender's cross-dressing stunts at gala political dinners in New York and on "Saturday Night Live" was the hot topic among right-leaning activists.
"A lot of people are talking about it. It's not respectable. They use it as a way to highlight all of his other shortcomings," Las Vegas conservative Bruce Feher told The Post." (
source
)
Are you kidding me? Mr. Tough on Terror is okay with illegals flooding our borders...he's still a pro-abort despite the morning after pill being available AND he's no friend of the 2nd amendment --Yet the biggest problem is he donned a dress?
Listen, I doubt I'd vote for Giuliani. I thought I could before I started digging into some of his less publicized opinions. But let's eliminate him for the relevant reasons and not some contrived homophobic bullshit. This is serious business and I hate to see it made a mockery.
If this is how the primary process is going to go...these people deserve Hillary.
P.S. On the advice of some here, I did read through
Duncan Hunter's voting record
...and it is near perfect.