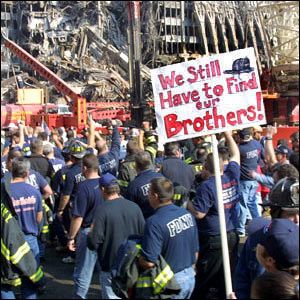 I had no idea the FDNY harbored so much animus for Rudy Giuliani.
The IAFF (International Association of Fire Fighters) is holding a forum for candidates seeking their endorsement and has invited 15 presidential hopefuls (including John Edwards, John McCain, Barack Obama, Chuck Hagel, Hillary Clinton, Chris Dodd, Joe Biden, and Duncan Hunter). Former NYC mayor Rudy Giuliani was told he is not welcome.
"...We made this decision after considerable soul-searching and close consultation with our two New York City affiliates, the Uniformed Firefighters Association Local 94 and the Uniformed Fire Officers Association Local 854, as well as our former Local 94 President and current IAFF 1st District Vice President covering New York.
The IAFF recognizes that Mayor Giuliani generally enjoys a favorable reputation as a result of his actions immediately after the tragedy of 9/11. As such, we want our affiliates and every one of our members to clearly understand the reason and rationale behind this very serious and sober decision.
Many people consider Rudy Giuliani "America's Mayor," and many of our members who don't yet know the real story, may also have a positive view of him. This letter is intended to make all of our members aware of the egregious acts Mayor Giuliani committed against our members, our fallen on 9/11, and our New York City union officers following that horrific day..." (
Read the rest of the letter
)
Their charges against Giuliani came as a shock to me...and, in all fairness (and taking into account this is coming from union leaders), I feel as if I should research the claims before I comment. As this letter circulates, I wonder how it could change the public's perception of the man that got the nation through 9/11...?