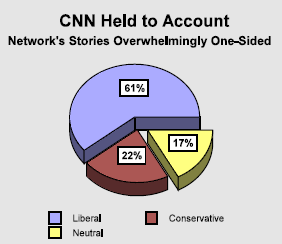 As much as the liberals here have claimed either 1) there is no media bias 2) the media is biased to the right, a new poll by Zogby tells a different tale...
"The vast majority of American voters believe media bias is alive and well – 83% of likely voters said the media is biased in one direction or another, while just 11% believe the media doesn't take political sides, a recent IPDI/Zogby Interactive poll shows.
The Institute for Politics, Democracy, and the Internet is based at George Washington University in Washington D.C.
Nearly two-thirds of those online respondents who detected bias in the media
(64%) said the media leans left
, while slightly more than a quarter of respondents (28%) said they see a conservative bias on their TV sets and in their column inches. The survey, which focuses on perceptions of the "old" and "new" media, will be released today at the PoliticsOnline Conference 2007 at GWU. It is also featured in the March issue of Zogby's Real America newsletter.
While 97% of Republicans surveyed said the media are liberal, two-thirds of political independents feel the same, but fewer than one in four independents (23%) said they saw a conservative bias. Democrats, while much more likely to perceive a conservative bias than other groups, were not nearly as sure the media was against them as were the Republicans. While Republicans were unified in their perception of a left-wing media, just two-thirds of Democrats were certain the media skewed right –and 17% said the bias favored the left.
As the influence of blogs has risen, mainstream news organizations have attempted to get in on the action by creating their own blogs to counter those run by private citizens and those not in the news business. But American voters remain skeptical of major news outlets diving in to the blog pool – 26% speculated that the reason news organizations are placing blogs on their Web sites is that "blogs give news organizations a chance to promote a political agenda they could not promote in their regular broadcasts, cablecasts, or publications." (
source
)
Isn't it amazing this is still a debate? And with all their MSM advantage they still begrudge us Fox? Amazing...