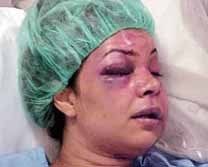 Not Over This:
"A 26-year old woman with two small children wanted to free herself from the bonds of matrimony. The police had established that her husband, who, like her, was from Morocco, had beaten her. Her husband had to move out, but the terror continued: after the separation the still-married man threatened to murder the young mother.
[The woman sought an expedited divorce under German law.]
[The (female) judge denied the request, ruling that because both marital partners were from Morocco where the koran allows men to beat their wives, therefore there was] "not any unreasonable cruelty within the meaning of Paragraph 1565" [of the German divorce law, so as to allow an expedited divorce. The woman would have to wait out the normal one-year waiting period.]" (
source
)
Or This:
"The boyfriend of a married Muslim woman allegedly murdered by her father and uncle for having an affair with him choked back tears yesterday as he told how her mother knew of the plot to kill her.
Rahmat Suleimani, 28, told the court that his girlfriend Banaz Mahmod's mother warned him that her husband was arranging to kill them both in an 'honour killing'. (
source
)
But THIS is what has them in a tizzy:
"...A leading German TV-moderator and anchorwoman of the country's top newscast caused an uproar last year when she admitted to regretting her three divorces, and condemned abortion, Die-Tagespost reported.
Her sequel, Dear Eva Herman, captures the responses of women who welcomed the admission that professional success had not compensated for the loss of genuine family life.
"The fact you've been criticized as being a traitor towards women shows just what sort of femi-fascism we have to live under nowadays," one woman wrote.
In The Eva-Principle, Herman tore open the issue of abortion as a violation of the woman, blaming pro-abortion laws for minimizing the trauma of abortion as nothing worse than going to the dentist.
Her book was founded on a rejection of the feminist goals of emancipation, career success and self-fulfillment, replacing them instead with the "radical" goals of motherhood, home-maker and marriage-partner.
"Let's just say it loud," Herman wrote. "We women have overburdened ourselves -- we allowed ourselves to be too easily seduced by career opportunities."
Herman's books are part of a new wave of anti-feminism in Germany, The Speigel reported, with growing numbers of professional women rejecting the feminist drive for career success in favor of a return to family life and motherhood." (
source
)
But wait, I thought they were Pro-CHOICE?