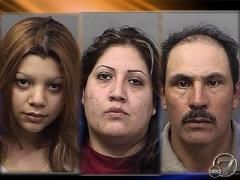 We've all heard about "black market babies" --and most assume it's stolen babies being sold or unexpected mothers selling newborn babies to infertile couples for big bucks...
...A scenario I wouldn't have imagined was a mother selling her
5 month old
baby boy for the down payment on a used car. ...And a Dodge Intrepid at that.
"...Nicole Uribe, 23, is accused of trading the baby to Jose-Juan Lerma, 47, and his wife, Irene, 27, in exchange for the down payment and an unspecified amount of cash. The alleged baby swap happened in Pueblo, police said.
All three were arrested on suspicion of felony trafficking in children and were being held at the Pueblo jail on $50,000 bail each.
According to the arrest affidavit, an informant said the baby was sold for $10,000, but police did not verify that information in their investigation. The affidavit alleges that Uribe accepted $1,500 from the Lermas, $500 of which was to be the down payment.
Uribe told police she didn't believe she was selling the baby, according to the affidavit, but that she was giving it up for adoption, saying she thought she signed adoption papers..." (
source
)