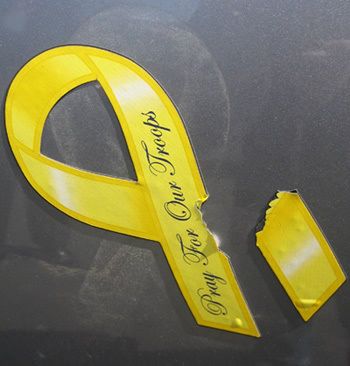 You know, the people that are against this "illegal war" and "Bush's warmongering policies of destruction", but for some reason still really respect and adore the men and women of the Armed Services that are bringing those policies to fruition...
Well, yesterday one of those staunch "supporters" decided to "teach me a lesson" and ruin my (dreaded) yellow-ribbon magnet. My yellow-ribbon magnet that
wasn't
purchased from the counter of a local convenience store but from the family of a soldier wounded in Afghanistan that was raising money for him...and it was $20, not $1.99...
I get really sick of the ire directed toward the damn yellow magnets... YOU have NO IDEA who the person with the magnet is... I know you like to imagine they are all spoiled soccer moms that would send their own kid to Canada before allowing them to serve...but you're way off. They could be an OIF or OEF veteran, a Vietnam veteran, a Marine Mom, a Soldier's sister, a former POW, or a Gold Star dad. They could be someone that made a promise to themselves to leave the magnet there regardless of how worn it became until all the troops were home...so they wouldn't forget and wouldn't let the sacrifice go unanswered...
So to the asshat that decided to "make a statement" with my magnet...yes, you succeeded in pissing me off because that's been there for almost 6 years (as you can see by the dirt)...but don't worry, it has been replaced with a another one from the 10th Mountain Division given to me by a certain female warrior....