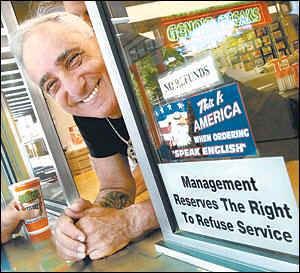 Joey Vento of Philly's
Geno's Steaks
who posted the now infamous sign, "This is America, Please Speak English When Ordering", is once again under fire...
"The Philadelphia Commission on Human Relations notified Geno's owner Joey Vento this week that it has found probable cause that his sign urging patrons to order in English is discriminatory. The next step is to schedule a hearing to settle the dispute or to escalate the charges against the owner of the South Philadelphia sandwich stand.
Vento, who argues that the sign expresses opinions protected by the First Amendment, has enlisted the support of the Southeastern Legal Foundation, a conservative public interest law firm in Atlanta that last year won a settlement for an Ohio bar owner who faced similar charges.
"I'm shocked the city is pursuing this," said Albert G. Weiss, Vento's lawyer in Philadelphia. "You'd think they have more important things to deal with." (
source
)
I looked up the
Philadelphia Commission on Human Relations
to see what their purpose was and if I could find anything about language... I couldn't:
"In employment, it is illegal to discriminate on the basis of race, color, religion, national origin, ancestry, age over 40, sex, sexual orientation, disability, marital status. and gender identity. In housing, the bases are race, color, religion, national origin, ancestry, age, physical disability, sex, sexual orientation, marital status, gender identity, the presence of children or an individual's source of income."
I'm interested to see what happens with this -Vento isn't saying you can't eat here is you're a different nationality. He's saying you have to say "Steak With" or "Steak Without" (meaning cheesesteak with cheese whiz or no whiz) to get a steak. Not that much to ask IMO.