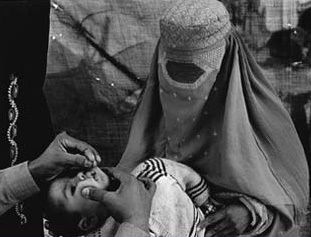 Mulsim clerics in Pakistan are saying that the polio vaccine is just an American plot to sterilize Muslim youth...as a direct result of this scare campaign, the genius parents of 24,000 children have refused to allow the vaccination.
"...The disinformation - spread by extremist clerics using mosque loudspeakers and illegal radio stations, and by word of mouth - has caused a sharp jump in polio cases in Pakistan and hit global efforts to eradicate the debilitating disease.
The scaremongering and appeals to Islam echoed a similar campaign in the Nigerian state of Kano in 2003, where the disease then spread to 12 polio-free countries over the following 18 months. Pakistan is one of just four countries where polio remains endemic. The others are Nigeria, India and Afghanistan..." (
source
)
Even "health care workers" are
boycotting the vaccine
.
It is being dubbed the "infidel vaccine"...and the end result? I'll just call it Darwinism.