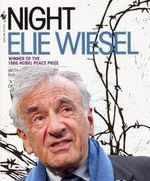 What the hell is wrong with San Francisco?! I know people say it's a beautiful city and a great place to visit, but I don't think it'll be on my travel log any time soon...
At a "San Francisco peace forum":
"...Nobel laureate and Holocaust scholar Elie Wiesel was dragged from an elevator and roughed up during a peace conference at a San Francisco hotel last week, police said Friday..."
The man survives Auschwitz and Buchenwald only to be accosted by some anti-Semitic lefty at a
peace
conference?! (Aside: If you've never read Wesel's
NIGHT
, you should.)
Then we have hero of the left, SF Mayor Gavin Newsom, who has turned out to be a pretty slimy guy... Sleeping with his campaign manager's wife. The guy is described as a "veteran aid" -which probably also meant long-term friend.
"..."What I did was wrong. And for the rest of my life I'm going to have to deal with that," Newsom told a room packed with hundreds of supporters.
Newsom, 39, admitted to the affair and days later announced he would enter counseling for alcohol use. On Sunday, he showed no sign of backing down from the race to get re-elected in November..." (
source
)
An alcoholic philandering adulterer...I can't think of a better mayor for SF actually.
Last but not least we have SF State back in the news... Remember when I posted about a new rule on campus that said
no terrorist flags could be burned
? Well, they've taken it one step further:
"A student filed a complaint with the Office of Student Programs and Leadership Development. OSPLD Director Joey Greenwell wrote to the College Republicans informing them that his office had completed an investigation of the complaint and forwarded the report to the Student Organization Hearing Panel, which will adjudicate the charge. At issue is the charge that College Republicans had walked on "a banner with the world 'Allah' written in Arabic script"-- it turns out Allah's name is incorporated into Hamas and Hezbollah flags -- and "allegations of attempts to incite violence and create a hostile environment," as well as "actions of incivility."
At an unnamed date, the student panel could decide to issue a warning to, suspend or expel the GOP club from campus.
The university's response? Spokesperson Ellen Griffin told me, "The university stands behind this process." And: "I don't believe the complaint is about the desecration of the flag. I believe that the complaint is the desecration of Allah." (
source
)
"...That would be the same San Francisco that recently refused to allow the USS Iowa to dock in local waters because of local opposition to the war in Iraq.
The same wacky city in which the school board voted to keep ROTC off school campuses because, in the words of a former teacher, "We need to teach a curriculum of peace."
The same city in which Supervisor Gerardo Sandoval actually said, "We don't need the U.S. Military" and "I am not in favor of a standing army." (
source
)
At this point I'm even scared to feed my kids Rice-A-Roni...