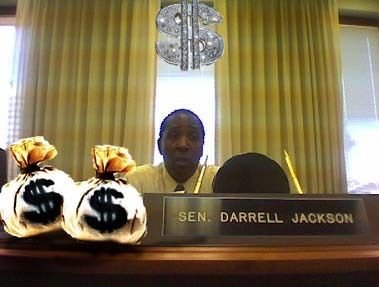 I am sure all the Democratic contenders wanted the backing of Black leader and pastor, South Carolina state Sen. Darrell Jackson...but Hillary got it. For a "small" fee...
"...Jackson confirmed to The Post yesterday that his public-relations firm struck a deal with the Clinton campaign just days ago for a contract worth up to $10,000 a month through the 2008 elections.
Jackson had also been in talks with Sen. Barack Obama's campaign about endorsing him and entering into a consulting contract for more than $5,000, sources said - raising questions about whether Jackson's endorsement was bought by a higher bidder.
Jackson acknowledged that his financial dealings with the Clinton camp should have been mentioned on Tuesday, when his support for the Democratic front-runner was revealed by a South Carolina colleague.
But Jackson balked at suggestions that his political support for sale.." (
source
)
Well, so much for McCain-Feingold...that bill that was so revolutionary in reforming campaign finance that
McCain isn't even following it
...