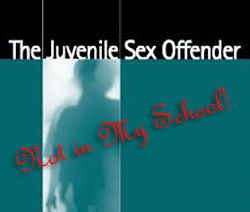 "Juveniles account for 20% of all rapes, and up to 50% of all child molestations are perpetrated by adolescent males. Left untreated, the average adolescent sex offender will go on to commit 380 sex crimes in his lifetime. However, clinicians treating sex offenders will tell you that juveniles have the best chance at rehabilitation.

How should we deal juvenile sex offenders? Should we register them and notify the community or should we simply punish them and hope that the punishment was severe enough to get the message across?"
(
source
)
Remember the
story I posted
a bit back about the school that said "child safety" wasn't their responsibility -and didn't report the 6th grader that raped the 1st graders because "legally they didn't have to report child on child crime"?
They are now rightfully being sued for $15 million dollars:
"Teachers and administrators at Central Elementary School knew they had a problem with F.H., a 12-year-old who had been accused of going into a restroom stall and sexually assaulting a first-grade boy.
But instead of calling police and removing F.H., district officials covered up the attack and allowed him to remain in class, leading to the sexual assault of three more first graders, parents say.
The allegations, contained in a $15 million federal lawsuit against the Allentown school system, have created an uproar in Pennsylvania's third-largest city, with outraged parents demanding the superintendent's ouster and state lawmakers working on a legislative fix.
The district denies wrongdoing and has asked a judge to dismiss the lawsuit. But it has not disputed that assaults occurred, and its legal response has only further inflamed public opinion in one of the state's poorest school districts.
In federal court last month, the district's lawyer, John Freund III, argued that school officials could not be held responsible under the Constitution simply for failing to protect youngsters from assaults by other students.
"I understand there is a civil case, but it still makes me very uncomfortable that a school district would stand up and say under any circumstance, 'We don't have to protect our children,' " said Emily Mebust, the parent of a kindergartner.
A judge has yet to rule on the school system's request for a dismissal. No trial date has been set... (
Read the Entire Article
).
It looks like Arkansas may be paving the way with a new law introduced that would require "require courts to notify school districts when a juvenile is charged or punished for a sex offense." (
source
) But this as Des Moines says that there is "no data to support the argument that Iowa's law barring sex offenders from living near schools or day cares is reducing the number of crimes against children." (
source
)
MY civil right, as a parent charged with making decision in the best interest o my children's safety, should trump the rights of a juvenile that has already broken the most basic of social contracts. Every parent has a right to know if there is a juvenile sex offender present in their school and more needs to be done to ensure what happened in that Allentown school (and many others across the country) never happens again...