As I was reading through a batch of "sex offender" stories last night something occurred to me that for some odd reason hadn't before...Megan's Law and the whole system of sex offenders registering is really just based on an honor system...and how do you expect people with no honor to adhere?
Violent offenders are required to register, but if they don't -and they don't get caught, then what? How many pedophiles and rapists are still off the radar after Katrina?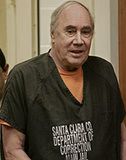 Sixty-four year old Dean Arthur Schwartzmiller was just sentenced to 150 years in prison. His reign of sexual terror spanned from 1969 with over 100 accusers. "When Schwartzmiller was arrested in June 2005, investigators found a memoir describing abuse, binders full of child pornography and 1,500 notebook pages with headings including "blond boys," "no, but yes boys," and "best of the best, 13 and under."
Schwartzmiller, who acted as his own attorney during his October trial, told jurors that he was innocent and maligned by a society that doesn't accept men who love boys.
He didn't register as a sex offender so he did not appear in the "Megan's Law" databases in California or other states, police said.
" (
source
)
...And can you believe that a convicted sex offender won an $14 million dollar lottery in Florida. The 6'5 pedophile, 47 year old Edward R. Cowal, convicted of "lewd and lascivious acts with a child" was living in a one bedroom mobile home and has opted for the lump sum of $8 million... Now he can join the likes of Michael Jackson and attract all the young children he wants... It should be someone like Lordzmom at
>Keystone Soldiers
that wins the lottery --someone that devotes all their time to making things better for others...not some scum bag like this...
And lastly, I'm wondering why we can have "drug free school zones" and not "pedophile free school zones". I don't want to hear the "double jeopardy" crap...Then again, if we are naive enough to "trust" violent sex offenders to all register of their own free will --we would never really know if the area was pedophile-free anyway.