Google Satellite Maps Aid Terrorists?!:
"...Documents seized during raids on the homes of insurgents last week uncovered print-outs from photographs taken from Google. The satellite photographs show in detail the buildings inside the bases and vulnerable areas such as tented accommodation, lavatory blocks and where lightly armored Land Rovers are parked.
Written on the back of one set of photographs taken of the Shatt al Arab Hotel, headquarters for the 1,000 men of the Staffordshire Regiment battle group, officers found the camp's precise longitude and latitude.
"This is evidence as far as we are concerned for planning terrorist attacks," said an intelligence officer with the Royal Green Jackets battle group. "Who would otherwise have Google Earth imagery of one of our bases? "We are concerned that they use them to plan attacks. We have never had proof that they have deliberately targeted any area of the camp using these images but presumably they are of great use to them.
"We believe they use Google Earth to identify the most vulnerable areas such as tents." (
source
)
Mass Exodus From Jimmy Carter: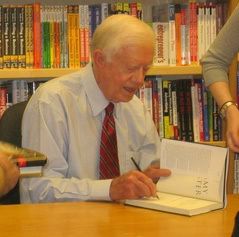 "...Fourteen members of a leadership group under former President Carter's think tank resigned Thursday over concerns that Carter's book on the Middle East does not represent "the Jimmy Carter we came to respect and support."
The members of the 200-member Board of Councilors, a leadership advisory group founded in 1987, join a longtime Carter aide, Jewish groups and lawmakers who have publicly criticized the former president's best-selling book "Palestine: Peace, Not Apartheid" for inaccuracies and distorting history.
The list of members resigning includes Alan Abrams, Berman, Michael Coles, Jon Golden, Doug Hertz, Barbara Babbit Kaufman, Levetan, Jeff Levy, Leon Novak, Ambassador William B. Schwartz Jr., William B. Schwartz III, Steve Selig, Cathey Steinberg and Gail Solomon. Another member plans to resign privately, Berman said.
The members say the book "portrays the conflict between Israel and her neighbors as a purely one-sided affair with Israel holding all the responsibility for resolving the conflict."
Carter stands by his book and defends it against what he called "lies" and "distortions" against his book in an op-ed published in the LA Times last month." (
source
)
P.A. "Moderate" Mahmoud Abbas Says Kill Israelis: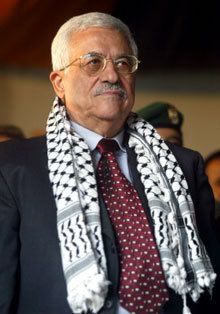 "Palestinian Authority Chairman Mahmoud Abbas told supporters on Thursday that they should turn their guns on Israel and not on each other. Addressing a rally in the West Bank city of Ramallah in honor of the 42nd anniversary of the founding of the Fatah party, Abbas said the Palestinians would continue their struggle until they had established an independent state with eastern Jerusalem as its capital.
Abbas said that although Fatah was accused of treason when it was first established, the organization would continue growing.
"We will not give up our principles, and we have said that rifles should be directed against the occupation," Abbas was quoted as saying by the Jerusalem Post.
Abbas urged Palestinians to avoid civil war, and he said his "top priority" was to "preserve national unity." Inter-Palestinian fighting and bloodletting are a "red line that must not be crossed," he said.
Fatah and Hamas have been engaged in sporadic street battles in recent months as they vie for control of the Palestinian Authority and the people's hearts and minds. Hundreds of Palestinians have been killed in the internecine fighting." (
source
)
(Is that Arafat's kaffiyeh he's wearing...? And did he lend it to Livin' la vida loca
Ricky Martin
?)
American Prisons: Breeding Grounds for Radical Islam?:
"If I had to pick a single issue on which I would hope to see our counter-terrorism policy give more focus to during 2007, it would be to have real progress made in altering the mindsets, dynamics and structures in what are rapidly emerging as a major source of domestic Islamist terrorism, America's prisons and jails.
Some progress has already been made. Federal prison authorities and state authorities in larger jurisdictions have been fairly proactive in isolating suspected terrorists and known radical Islamists from the general inmate population. But more has to be done to stop prison authorities from continuing to condone a well-established propensity for Muslims inmates to self-segregate.
As controls in the US on the access of outside Imams to prisoners have tightened, the problem of Islamist radicalization in US prisons is one that involves much more self-radicalization. This seems to be especially the case amongst certain segments of the African-American inmate population that has converted to Islam while in prison." (
Read the entire column
)