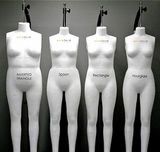 I'm out of luck...According to a new study coming out of the University of Texas says that men subconsciously want an hourglass body:
"...The psychologists from the University of Texas today publish research showing lovestruck men have only one thing on their minds: a woman's WHR - waist-hip ratio, calculated by dividing waist circumference by that of her hips. Prof Singh found evidence this "belle curve" is ingrained in the male brain in his studies of Playboy centerfolds, the ancient Egyptians and tests on men from different cultures..." (
source
)
I have no hips...well, barely any hips. I would say I was a "rectangle" according to the descriptions...
See the chart to determine your body type
. Sigh.