filed under depressing
Marine Returns from Two Tours in Iraq & is Killed in a Drive-By:
"Less than two months after returning from serving in Iraq, an East Side man who planned to become a police officer was killed outside a bar.
Marine Cpl. Isaias Cintron, 24, died Thursday after someone in another car opened fire on his car outside the Portside Pub in Hammond, Ind. "It was just a mistaken identity," older sister Yocelin Cintron said Friday. "He was a peaceful guy. He never got in a fight with anybody."
Cintron put the car in park when it was blanketed by bullets, shattering the windows and hitting him in the back.
For years, Cintron wanted become a police officer. After graduating from Washington High School in 2000, he completed a two-year degree in criminal justice at Kennedy-King College. He planned to take a police test in March, his sister said. "He always protected us, always," she said.
Cintron was popular in the Marines, his sister said. He would cook traditional Puerto Rican meals for his buddies using a George Foreman Grill and a small skillet. "His room was always the hang out spot," she said. "He always had friends over." (
source
)
9th Grader Stabbed in School Bathroom: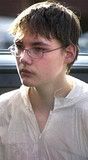 "A 15-year-old boy was stabbed to death Friday in a hallway at his high school in an affluent Boston suburb, and a classmate was charged with murder after blurting out, "I did it, I did it," authorities said. Investigators would not comment on a motive for the attack.
John Odgren, 16, pleaded not guilty in the killing of 15-year-old James Alenson and was jailed without bail. He was to be tried as an adult.
Odgren's attorney, Jonathan Shapiro, said Odgren has Asperger's syndrome, a form of autism, and has been taking medications for many years. "The defendant has a history of fairly serious psychological diagnoses and has also suffered from hyperactivity dysfunction for many years," Shapiro said. "What is clear is John has a serious disability." (
source
)
FYI: The Median price range house in this area is $300,000-$400,000.
School violence seems to be more of a middle/upper class crime...wonder if it has anything to do with the liberal attitude that kids can't even defend themselves anymore because of zero tolerance rules (A subject I plan to start exploring thoroughly).
filed under frivolous legislation
State Encouraged Alcoholism:
In the midst of Big Brother taking steroids...South Carolina has decided that Happy HOUR isn't good enough -South Carolinians need Happy DAY.
"We've all heard of Happy Hour, but how about Happy Day? It's a new bill that could extend Happy Hour at bars and restaurants into an all-day affair.
Wednesday, a state legislative sub-committee approved the Happy Day Bill. The bill allows bars and restaurants to pick one day in the week, except Sunday, to offer all-day drink specials.
Keith Mayfield is the manager of Yo Burrito in Mount Pleasant. He wants the bill to pass. "Food sales definitely go up when there's more drinking," Mayfield said.
The House Judiciary Committee will debate the Happy Day proposal next week." (
source
)