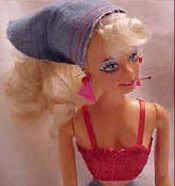 So, needless to say, I went off the horrid Wellbutrin. It has worked for a lot of people I know, but all of those people could be on Wellbutrin anyway if you know what I mean. It made me so bitchy and I was having crying jags...terrible.
Now the journey begins again. No, I DO NOT have the willpower to do it on my own...so save the finger power from typing that ;) Truthfully I don't want to quit. I mean I want to quit in the sense that I'd like to live for my boys and not walk around with an oxygen tank, and I spend too much on perfume to smell like smoke... But I enjoy smoking. It's my stress relief. Some people have a beer, some a joint, some a piece of cake or a Big Mac... we all have our things. So, therein lies the problem. Since everyone says "You have to quit" but in the next breath says "you have to WANT to quit for Yourself and no one else" how do you remedy those two things?...
The point of this been-there-done-that post? I am exploring the new drug
Chantix
with my doc. It works the way the nicotine vaccine would if the tobacco lobby would let it get FDA approval. It works like methadone does for heroine addicts. It blocks the receptors in the brain that derive enjoyment from nicotine -so if you do smoke it does absolutely nothing for you...
Sounds good right? Well, no insurance covers it.
"Why?" I asked my doc "Isn't it cheaper to pay for the drug than to treat lung cancer?"
"No" the shocking answer, "the average American only stays with their health insurance company for 18 months, so the company won't benefit from you quitting."
"Ahhhh."
The drug is $120 a month and most people stay on it for 3 months. $360. Smoking for 3 months $401.52 (would only be $210 if I lived down south...) and insomnia, constipation and nausea are common side effects. Lovely.
Has anyone tried this drug or know of anyone that has? Any success stories? Failures? This looks like it will be a long, bumpy journey; but I am committed to staying on the road...