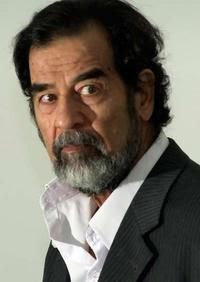 It seems that this might put a damper on the burgeoning conspiracy theory that "Saddam was hung quickly by the United States to shut him up":
"...A senior Iraqi official told Reuters the U.S. ambassador tried to persuade Prime Minister Nuri al-Maliki not to rush into hanging the former president just four days after his appeal was turned down, urging the government two wait another two weeks.
U.S. forces had declined to give Saddam to Iraqis for fear of abuses of his prisoner's rights. They only agreed to hand him over for execution hours before the unannounced hanging.
A government official involved in the talks told Reuters, on condition of anonymity, that U.S. ambassador Zalmay Khalilzad had urged Maliki to wait another two weeks, until after the long Muslim festival of Eid al-Adha, and had insisted on a variety of documents including approval from Iraq's Kurdish president.
"The Americans wanted to delay the execution by 15 days because they weren't keen on having him executed straight away," he said. "But ... the prime minister's office provided all the documents they asked for and the Americans changed their minds when they saw the prime minister was very insistent." (
source
)
At least he walked to the gallows, unlike the coward Hitler with his pocket full of poison pills...