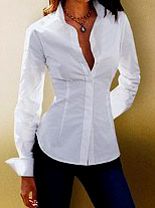 As I sit here filling out the 9,000 questions on the application for per diem teaching in my school district...I can't help but realize that this new endeavor will require a serious wardrobe makeover. I have been a SAHM for eight years...so my closet is seriously lacking in modest/professional clothing.
So this is where you all come in. No, I'm not soliciting clothing donations. But, I have noticed that this site has tended to attract amply bosomed women, so I thought you may have some guidance for me.
I love button down shirts, but if I find one that fits my boobs it's too wide at the waist and if it fits the waist -it's gapping at the boobs. You would think that Victoria's Secret would be a good place to start as all their models appear to have DD's with a tiny waist, but alas they fit like everyone else's... Does anyone know of a place? Do I have to just buy them big and pay to have them altered? Help.