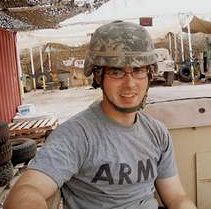 Thank you to everyone that emailed and linked the story about Public Storage selling the belongings of Army Reserve Specialist Patrick Rogalin... The effort may have been part of the reason Public Storage reversed previous statements and decided to make good with this Soldier.
Public Storage released a press statement yesterday that read:
"A story appeared in the news media this past week reporting that Public Storage had sold the contents contained in a storage space rented by a U.S. Soldier while he was serving our country in Iraq. The goods were sold because rental payments had not been received and we were not aware that the individual was on active duty.

The company deeply regrets the loss and inconvenience experienced by Mr. Rogalin, and after working closely with him we have reached a mutually satisfactory agreement and resolved this unfortunate matter.

Public Storage has a great respect for the men and women that serve this country. This incident is inconsistent with the company's policies and procedures with regard to known active-duty military personnel and resulted from an inability to communicate with the customer at the time."
(
source
)
Of course this won't bring back photos and family mementos that can't be replaced --but at least the company seems to realize their enormous error and maybe they will be more thorough in the future so this won't happen again.
(H/T to CM for sending the press release!)
UPDATE: Someone close to Patrick says this press release is untrue and Public Storage has yet to reach an agreement with Rogalin. Also, that his bill was less than 30 days late and no late notices were sent out.