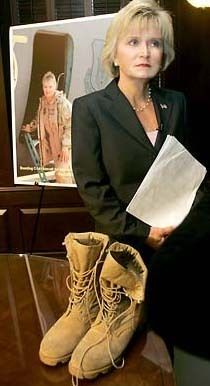 "You had news for me on Tuesday, now I have news for you," Muhl recalled Gray saying. "You will not have a job when you return from the desert."
Believe it or not that was what Richard Gray (cardiac program medical director at Sutter Health) had to say to 30 year combat veteran nurse after learning of her new deployment to Iraq.
The company claims that (despite this comment and the fact that she was told two days after relaying her deployment orders) this was an economic decision and had nothing to do with her service.
"..."Colonel Muhl is an honest-to-goodness war hero," Lowe said. "She has treated thousands of wounded individuals and service members ... We felt this was an important case that required intervention by the courts."
Muhl, 56, said she worked at Sutter from 2002 to 2006, most recently as administrative director of the joint cardiac program. She was called up to active duty status several times during that period, including in March 2003 for 10 months and twice in 2005 for military training.
In her complaint, Muhl alleges that her supervisor, Richard Gray, the cardiac program's medical director, found her deployments frustrating, at one point instructing her to file a complaint with Congress seeking to get out of the military. As a compromise, Muhl said, she requested a transfer to a unit with fewer deployments..." (
source
)
I was distressed to see the case was filed in San Francisco...isn't this the city that voted to have all military vestiges removed?