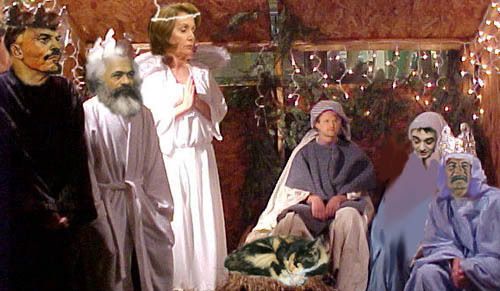 Members of the University's Young Conservatives Club seem to be done with turning the other cheek when it comes to the ACLU's "War on Christmas" -and are planning to display a Nativity scene that promises to be just to the ACLU's liking...
There will by Joseph and Gary (Mary has been replaced), the wisemen will be Lenin, Marx and Stalin (depicting the ACLU founder's, Roger Baldwin, support of Soviet-style communism), there will be a "terrorist" shepherd and to top it off an "Angel" with Nancy Pelosi's face.
"Campus activists plan to display an "ACLU Nativity Scene" at the University of Texas in response to the civil liberties group's "extreme" campaign to remove Christmas from the public sphere.
Tony McDonald, chairman of the Young Conservatives of Texas branch on the Austin campus, told WND his group has been working on the "crèche" at his apartment and plans to install it on the West Mall of the campus for display Monday and Tuesday.
"The whole scene is a tongue-in-cheek way of showing the many ways that the ACLU and the far left are out of touch with the values of mainstream America," McDonald said in a statement." (
source
)
The picture above was my rendition, here is the actual photo: