"A guy goes to war and has no problems with that. He comes back to the States, and it's supposed to be our safe place." -Cpl. Garrett Farris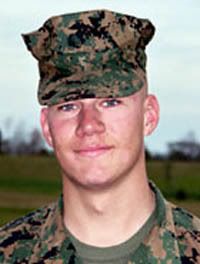 Marine Cpl. Brian Mathews (just 21 years old) survived his tour in Iraq. He was stationed at Camp Pendleton, but was home in Maryland for Thanksgiving with his family and girlfriend. I can only imagine that night they all gave thanks for his safe return from 8 months in hell.
"...Brian Mathews called his mother from the plane Thanksgiving morning, gleefully reporting that Southwest Airlines had let him board first in San Diego and thanked the uniformed Marine over the intercom for his service..." (
source
)
After dinner the USMC Corporal and his girl were stopped at a red light when they were rear-ended by Eduardo Raul Morales-Soriano. The impact killed both of them. Morales-Soriano had a blood alcohol level of .32 (four times the legal level in Maryland for intoxication) --and, according to U.S. Immigration and Customs Enforcement Office in Baltimore, was in this country illegally.
"...It wasn't Morales-Soriano's first auto accident and it wasn't the first time police had dealt with the landscaper when alcohol was apparently involved.
In February, Columbia police responded to a non-injury accident in a parking lot involving Morales-Soriano. According to police reports, he was "unable to maintain his balance" during a field sobriety test. He was given four citations and allowed to leave the scene of the accident with a relative after he refused to take a Breathalyzer test.
Although Maryland law requires an automatic 120-day forfeiture of a drivers license for refusing the test, Morales-Soriano's license was not suspended after the accident.
Prosecutors dropped all charges in the February accident due to "weak evidence," allowing Morales-Soriano to recover his seized license from the police and to avoid a fine and points added to his license. A policeman's error at the accident scene – returning the form documenting the refusal to take the Breathalyzer test to Morales-Soriano – meant that the Maryland Motor Vehicle Administration did not receive the information necessary to suspend his license, Wayne Kirwan, a spokesman for the Howard County state's attorney told The Baltimore Sun.
Morales-Soriano used a North Carolina driver's license issued Feb. 5, 2004, to obtain a license in Maryland on July 8, 2005, according to Maryland Motor Vehicle Administration. WND has reported on the popularity of North Carolina as a destination for illegal aliens seeking easy access to a driver's license.
The state's requirements to obtain a driver's license are weaker than those of many surrounding states, according to a performance audit of the licensing process..." (
source
)