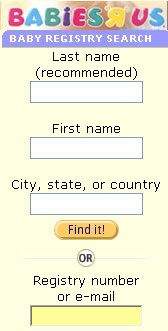 By now you have probably all heard the story of Sara Brady -the woman that was attacked by Katie Smith who was trying to cut the 9 month old baby from Brady's stomach and claim it as her own. Smith was killed by Brady with her own knife...
Katie Smith, who was desperate after her inability to conceive, found Brady on the much-used Babies R Us gift registry. You could type in a state and all the names of pregnant moms would pop up. After this incident Babies R Us claimed they changed the registry so this information wasn't readily available. Basically they made it so you can't search by city...
"The 27-year-old mother can trace the nightmare to February 2005 when Smith twice lured the young mother-to-be to her Fort Mitchell apartment to pick up baby gifts supposedly delivered to the wrong address. Smith, claiming her name was Brody, told Smith the gifts were mistakenly delivered to her.
Since that incident, Babies R Us has changed its online registry so that Internet users no longer can search the registry by city
, police said." (
source
)
Last night I made up a last name and typed it in along with my state. A list came up and I found someone in a town within 10 minutes. I then searched for them on Zaba and had their address and phone number in less than a minute. Not to give would-be weirdoes any tips, but what the hell?
I am sure this is not something that escaped the techies that do the website for babies R Us --which leads me to believe that "changing the search" in the lame, ineffective way they did, was a facade of concern and not a real move to provide safety for thier customers... God forbid a search was a bit inconvenient and shoppers gave up and went elsewhere...