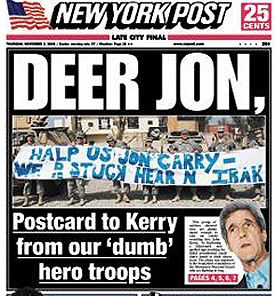 So, John Kerry is off to Iraq (we can only hope he "gets stuck" there...) to visit with the troops...
"I've talked to plenty of guys who've come back from Iraq, who are there now, who understand exactly what happened," Kerry said of his joke in a telephone interview Tuesday with The Associated Press. "They laugh at it." (
source
)
I wonder if anyone will be allowed to speak frankly to him. I am curious about these "official visits" --do they screen the troops to find ones that are favorable to the visiting politician? Would anyone that called him on the "botched joke" or previous denigrations of the Armed Services be reprimanded? What's the protocol for these things? Will reporters be allowed to be present if he actually mingles with the boots on the ground?
"Kerry, who has delayed a decision about running for president after the joke uproar, said he will decide soon about the 2008 contest.
"I will make a decision somewhere towards the end of the year or around the turn of the year," he said." (
source
)
I'd say the fact that he's willing to face these guys shows that he *will* run in '08...