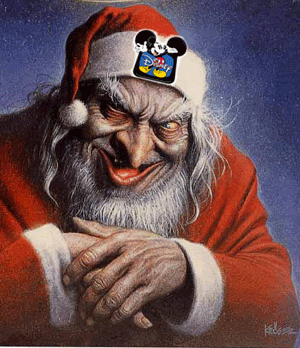 Sixty year old James Worley has a natural white beard and big belly. This almost got him kicked out of Disney World.
Children were asking Worley if he was Santa Claus. Not having the heart to disappoint them he played along and gave them some "ho ho hos" --that is until Disney employees descended and told him to "alter his appearance" or he would have to leave the park. Their reasoning:
"They said they wanted to preserve the magic of Santa." -and-
"Santa was considered a Disney character."
So he was ordered to stop looking like Santa...even though it wasn't a costume?
"...Mr Worley took off his red hat and red shirt but said: "I look this way 24/7, 365 days a year. This is me."
Even after bowing to the request to alter his appearance, Mr Worley, from Tampa, said children continued to ask if he was Santa. "How do you tell a little kid, 'No, go away, little kid'," Mr Worley told local television.
Mr Worley said he still loved Disney and Christmas." (
source
)
Has the entire world gone mad?