More Horrid Parents
:
Parents of a newborn are quibbling over which of their pets gnawed FOUR toes off their newborn...the pitbull or the ferret. My questions: Why were either able to get to the baby? What drugs were the parents on that they didn't wake up after the first toe came off? And why don't we have Parenting licenses again?
"The month-old girl was injured December 10 as Mary Hansche, 22, and her husband, Christopher Hansche, 26, slept; they woke up when they heard her crying.
The parents were jailed on $50,000 bond each, charged with child desertion and criminal negligence.
The husband had blamed the dog and told police the ferret had been in its cage all night, Bossier City spokesman Mark Natale said Wednesday. The charges wouldn't change regardless of which pet was involved, Natale said, because the baby "was injured by an animal while in the custody of the parents."
The girl has been released from the hospital and is in state custody." (
source
) (H/T: Liz)
Fred Phelps International Man of Insanity
:
Fred Phelps, "pastor" of the "Westboro Baptist Church" -and I use the terms lightly, has now taken his freak show international. He is making a name for himself in Europe by accusing the King of Sweden, Carl Gustaf, of being gay.
"Phelps' site calls Sweden "a land of sodomy, bestiality, and incest", and goes on to say: "The King looks like an anal-copulator, & his grinning kids look slutty & gay."
Under pictures of the royals, the site says: "You jackass Swedes just don't get it. Once you have laws to chill Bible preaching, we don't give a rat's tutu whatever else you do or say. You are drippings from the Devil's own penis - a veritable sperm bank for Satan's queers."
The site and its content have infuriated Swedes who have a close bond with their royal family. The government has expressed its concern to the US Ambassador. And, the royals have consulted their lawyers.
Although Phelps could be prosecuted in Sweden it is doubtful he could be extradited." (
source
)
My Guilty Pleasure Gets Sued
: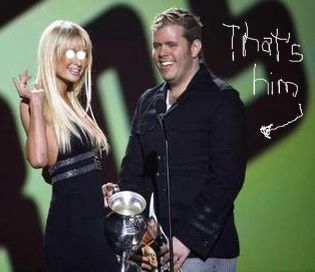 Yes, I admit it...I read
Perez Hilton
. It's People magazine on crack.
Now an L.A. photo agency is suing him for
7.6 million dollars
:
"The suit claims Hilton used 51 photographs without permission, payment or credit, including images of a pregnant Katie Holmes, Kevin Federline pumping gas and Britney Spears showing her, um, assets.
"
We've had trouble with a lot of bloggers
," X17 co-owner Brandy Navarre told the Los Angeles Times for a story on its Web site. "But he's the biggest, and the most arrogant and pigheaded about it, frankly. "He is stealing our images and costing us money every day," she said.
Hilton, whose real name is Mario Lavandeira, said he believes he has done nothing illegal. "I am going to vigorously defend myself," he said. "I am willing to step up to the plate and fight for my rights and fight for the rights of all bloggers."
His attorney, Bryan Freedman, said Hilton has a legal right to make satirical or humorous use of newsworthy photographs. If the copyright lawsuit succeeds, "the effect would be to eliminate the ability to comment on and transform photographs under the fair-use exception to the Copyright Act," Freedman said.
But X17's lawyer, John Tehranian, argued that Hilton "is basically free-riding on the labor and efforts of X17 and its photographers who stay up all night and roam the city." Seven other photo agencies sent Hilton a joint letter demanding that he stop using their photographs but they have not sued, the Times said." (
source
)
All Bloggers (especially those who use pictures taken from the web -LIKE ME) need to be watching this case and doing whatever they can to support Mario. (Also, I have seen him give photo credits many times -as I do if I know the origin of the picture)