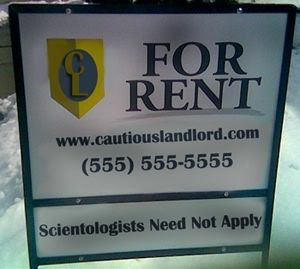 Apparently
Craig's List
had some rental ads posted that were "discriminatory" (making it clear what kind of tenants they were looking for). A Chicago-based civil rights group called "Chicago Lawyers' Committee for Civil Rights Under Law" filed charges citing the 1968 Fair Housing Act.
Craig's List, supported in this case by Amazon, Google, Yahoo and eBay, contended they were not responsible for content of posts by their users.
"A federal judge in U.S. District Court in Chicago has ruled that Craigslist is not responsible for openly discriminatory housing ads placed on its site by users. In the case of Chicago Lawyers' Committee for Civil Rights Under Law Inc. v. Craigslist Inc., No. 06C-0657 (N.D. Ill.), Judge Amy St. Eve upheld Craigslist's argument that it is not a "publisher" of housing ads, but merely a provider of online "interactive services," and therefore is not liable for the content of users' posts under the 1996 Communications Decency Act." (
source
)
Like the State being able to ban smoking in a building that I purchased...I don't get the "Fair Housing Act". Not saying that discrimination is a good thing, but if someone paid for duplex with their hard-earned cash and must rent the units to pay the mortgage--why can't they fill those units at thier own discretion?
Most landlords don't post "no scientologists" in their ads --they just screen calls to get the desirable tenants... Have you ever had someone actually pick up when you called about a rental...? Not in Philly.
Jules Crittenden
posts about a California case
in which the courts ruled Bloggers will not be held to libel laws--and he's wondering if this is "free speech or a diaper for Bloggers".