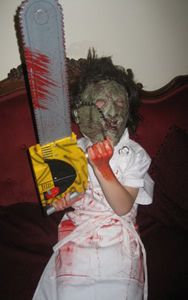 Last night, in Marion County Indianapolis, the probation department had a
mandatory meeting for the 200 registered sex offenders
that live there...meant to keep them off the street and away from children. What a brilliant idea. "...The probation department says it had near perfect attendance, and those who didn't show up had approved excuses.
The meeting did result in two arrests. One was an open warrant. The arrest came after a sex offender showed up to the meeting with a child in his car." (
source
)
When you Google "sex offenders + halloween" there are
over 9 pages of stories
--like New York (with over 2,000 registered offenders) that imposed curfews and no costume restrictions-- it made me feel better to see that the authorities were taking the situation so seriously...