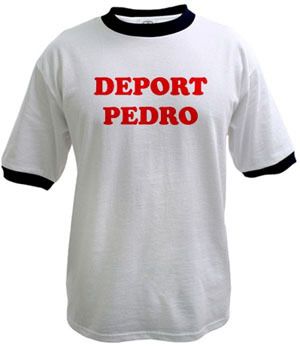 It's not about racism. It's about law and order. It's about accountability. It's about the fact that we *need* to bring crime back into the national debate. These stories are just two in a flood of recent violent crimes committed by illegals in recent weeks-- Cheap labor or not, Illegals commit crimes of assault, rape, and murder at three and four times the rate of the American people...
Daniel Francis, 32, killed by Surenos 13 gang member and 25 year old illegal alien Manuel Camacho in a
road rage
incident:
"...Police encountered [Camacho]
almost a dozen times between 2003 to 2006
. He was a suspect in a
rape case
that wasn't pursued. He was convicted of driving while intoxicated, third-degree
battery
, criminal mischief and three times of not having a driver's license. He had speeding tickets -- one for driving between 46 and 50 mph over the speed limit. Once, he was stopped for playing "unnecessarily loud" music in his vehicle and claimed to be a member of a "South 18th Street" gang, police said.
None of these arrests, or resulting checks with the Arkansas Crime Information Center, flagged Camacho as having been deported or being illegal.
(
source
)
Adrienne Shelly, an actress, killed by 19 year old illegal alien Diego Pillco because she threatened to call police about noise.
"...Pillco renovating a West Village apartment, when Shelly, who also wrote and directed and had an office in the building, complained about the noise. She threatened to call the cops, and Pillco,
fearing his illegal status would be discovered
, followed her to her upstairs apartment and knocked her to the ground, police said.
Thinking the blow had killed her, Pillco
hanged Shelly by a bedsheet from the shower rod
to conceal the murder as a suicide, police said. Last week, a medical examiner discovered that the hanging, rather than the blow, killed Shelly, who was married and had a 3-year-old daughter..." (
source
)
(*T-shirt available at
Right Wing Stuff
*)